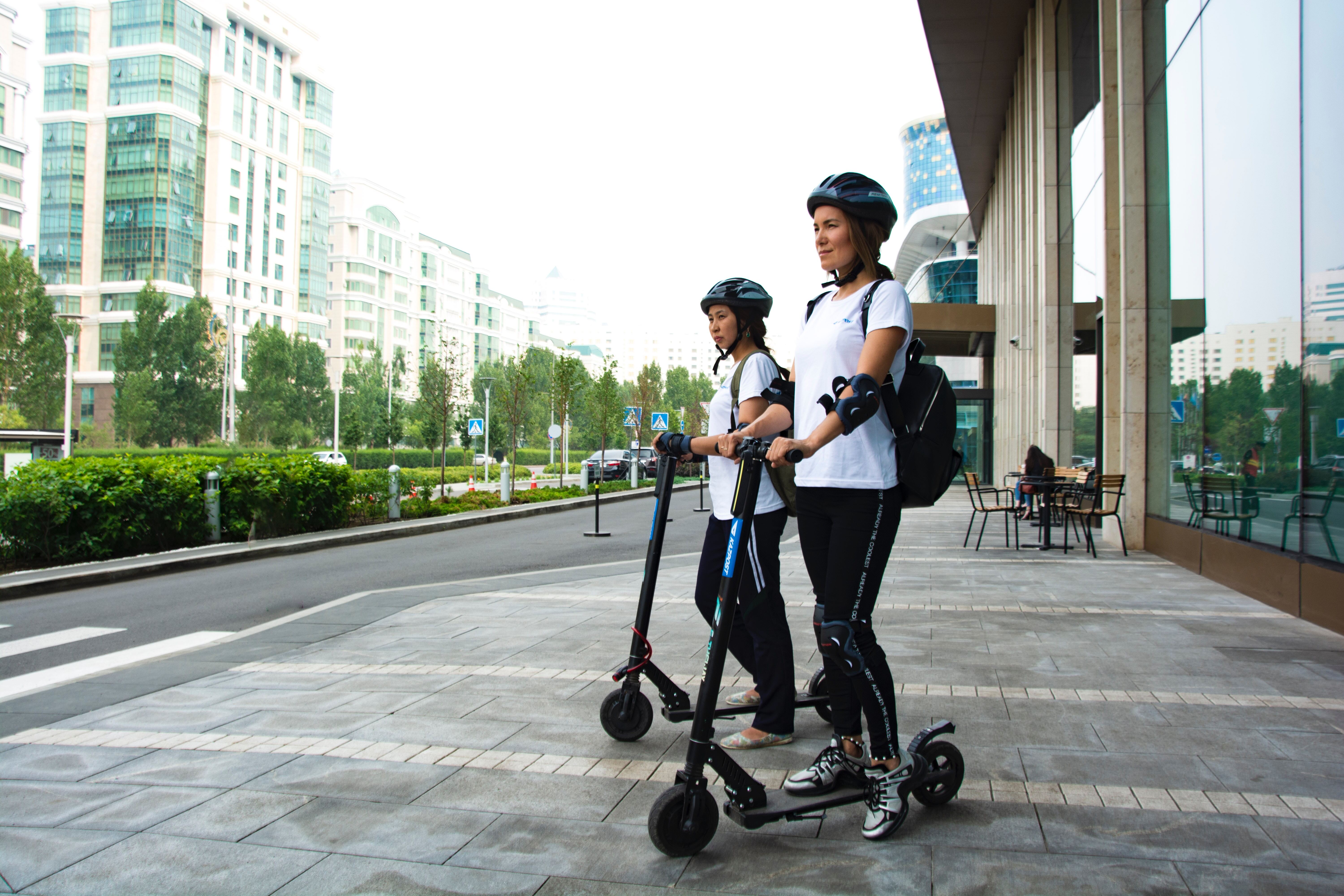 Faster through town than by car, less tiring than by bike. Electric scooters are full of advantages. But they also cause many accidents ... Check the right traffic rules and tips on how to get properly insured here.
Learning to scoot is quicker than riding a moped and you arrive at your destination without sweating. You can easily take the scooter with you in your car trunk or on the train. You don't have to stand in traffic jams and also don't pump unhealthy gases into the air. On average, the price is lower than that of an electric bike. And we could go on and on. Yes, an electric scooter has many advantages.
But an e-step also has drawbacks and risks. In 2021, more than 10 accidents with injuries occurred weekly in Flanders, according to the latest figures from the Federal Police. Three times more than the year before, with twice as many seriously injured. Electric scooters continue to gain in popularity, but the accident rate is rising with it.
Clearer traffic rules for e-steps urged. They have been in force in Belgium since 1 July 2022.
Broadly speaking, legislators have put the electric scooter on a par with the (electric and regular) bicycle. So if you are used to cycling, you already know most of the e-scooter rules. Handy!
With your electric scooter, you need to follow these traffic rules:
You must be 16 years or older to ride an e-step on public roads.
You drive a maximum of 25 km per hour, on the cycle track (or to the right of the carriageway where there is no cycle track).
You are not allowed to carry passengers.
In pedestrian zones where cyclists are allowed, you can scoot, but only at walking pace.
Is it dark or foggy? Then you must have front and rear lights and reflectors. A bell or horn is also compulsory. A helmet or fluorescent jacket are not, but very useful for your own safety.
There are now also specific parking zones and places where parking is prohibited for e-steps. Make sure your parked scooter does not obstruct other road users.
Furthermore, the general highway code applies: as a stepper, you follow traffic signs for cyclists, give way to pedestrians on the zebra crossing, do not step when you have been drinking ...
By the way, these new traffic rules are there not only for electric scooters, but for all 'motorised locomotion devices'. So they should also be followed by monowheels and electric skateboards, among others.
Note that the law considers some electric scooters to be mopeds. If your scooter has a saddle higher than 54 cm, you have to register it and have it insured. You are also required to wear a helmet in this case.
As with any other road accident, you first make sure the road is safe, victims get first aid or the emergency services are notified. Even if there are only minor injuries, you call the police.
Once you have recovered from the initial shock, notify your insurer. Call us at 054 32 95 41 or email to kantoor.arents@verz.kbc.be. We will then look at the next steps for you.
No insurance is compulsory for an electric scooter without a saddle, or with a saddle lower than 54 cm. But if something happens, these insurances do come in handy.
Or with a fancy word: the insurance civil liability private life. This covers the damage you cause while stepping to others (e.g. a pedestrian you collide with) or their property (e.g. a scratch on a parked car).
Personal accident insurance or hospitalisation insurance
If you are injured yourself and no other vehicles are involved in the accident (the most common type of e-step accident), the mutual insurance company or personal accident insurance will reimburse your medical expenses. If you have to go to hospital, you also speak to your hospitalisation insurance.
Workplace accident insurance
A scooter accident on the way to work or back home? For that, your employer has work accident insurance that covers the cost of your care.
Don't ride your own electric scooter, but one from your employer or a sharing platform? Then their insurance will intervene.
Occasionally, you hear about overheated batteries of electric scooters (or bikes) exploding or causing fires. To avoid this, the first step is to buy or rent a quality one from a reliable brand.
In addition, you can take these precautions:
Only use the original charger.
Unplug it as soon as the battery is fully charged.
Charge your scooter in an area with a smoke detector, with no flammable materials nearby.
Get your electric scooter (or e-bike) checked regularly.
Have fun stepping! And ... be careful.
The insurances from this article
These products are named in this article. Any questions? We will be happy to advise you. 
Personal Liability Insurance
Are you or a family member responsible for damage due to error or negligence to someone who can claim compensation? Personal Liability Insurance will protect you and your family, making it an indispensable part of anyone's insurance portfolio.
Hospital
Our hospital insurance ensures generous refunds of hospital costs, on top of the basic reimbursements of the statutory health insurance. The cover will take effect immediately.
Accidents at work
Anyone can become the victim of a workplace accident at any time. That's why you, as a business owner and employer, are required by law to take out work accident insurance.